Background
The Behnke Group established a business consulting relationship with (Company A). Established in 1996, Company A was only providing its service to hospitals within a concentrated geographic area and at the time had not contracted with any new hospitals for 24 months. Company A currently provides services to hospitals across the nation.
Challenge
At the time the Behnke Group team began working with a Healthcare Provider (Company A) most of the company's accounts were located in just one state. However, the company's growth goals included the acquisition of accounts beyond this region in an effort to transition into a national provider. To accommodate this growth goal, the Behnke Group identified the need to establish more effective sales processes focused on targeted lead generation, including establishing structured methods for qualifying leads and facilitating them efficiently through the sales process. Lastly, the Behnke Group identified the need for a comprehensive marketing strategy focused on effectively communicating the company's value proposition to prospective and existing customers as well as the healthcare industry at large. The marketing strategy was also designed to ensure that Company A's branding and messaging were consistent among all national media and target audiences.
Solutions
To address Company A's challenges, the Behnke Group developed a multi-tiered strategy focused on the following key areas:
Expand Company A's customer base and facilitate its transition to a national provider by establishing meaningful and productive relationships with hospital C-level executives in key markets across the nation.

Leveraging his more than 20 years of experience in healthcare business development as well as relationships with C-level executives at hospitals across the country, Bill Behnke assisted Company A in developing relationships with C-level executives at hospitals in key markets. These relationships proved invaluable in opening new prospective markets for Company A and laying the groundwork for sales presentations that led to multiple new accounts.

Enhance Company A's sales management process by developing structured methods for identifying leads, qualifying them more effectively, and accelerating them through the pipeline more efficiently.

The Behnke Group assisted with the recruitment and hiring of a professional inside sales team, mentored and supervised by an experienced Director of Sales and Marketing, and provided the team with focused training to enable effective communication of Company A's value proposition and key benefits to prospective customers.
To ensure more effective customer relationship management (CRM) and targeted lead generation/qualification, the Behnke Group introduced and implemented the Salesforce cloud-based software and provided in-depth training to the company's inside sales team on its use. Salesforce is the leading CRM platform designed to track communication with customers and accelerate the sales process through the pipeline in a more timely and efficient manner.
The Behnke Group spearheaded and led the development of a return-on- investment (ROI) tool that allows hospitals to quickly determine the potential ROI impact of Company A's programs based on a few specific data points entered by the user. Featured on the company's website, the ROI Impact Calculator has proven to be an instrumental marketing tool that quickly and efficiently demonstrates the potential costs savings of Company A's programs to prospective customers.
Results
In the 12-month period, the Behnke Group successfully facilitated Company A's transition into a national provider, resulting in the acquisition of five new hospital contracts during this period totaling $98,867,434 in value. As the graph on the following page indicates, most of these contracts are in various states and regions across the country.
In addition to facilitating the acquisition of more than $98M in new hospital contracts, the Behnke Group established structured sales processes and training methods in concert with the development of a comprehensive marketing strategy focused on consistent messaging of the company's value proposition to key audiences. The results have helped to position Company A on a positive trajectory for significant national growth well into the future.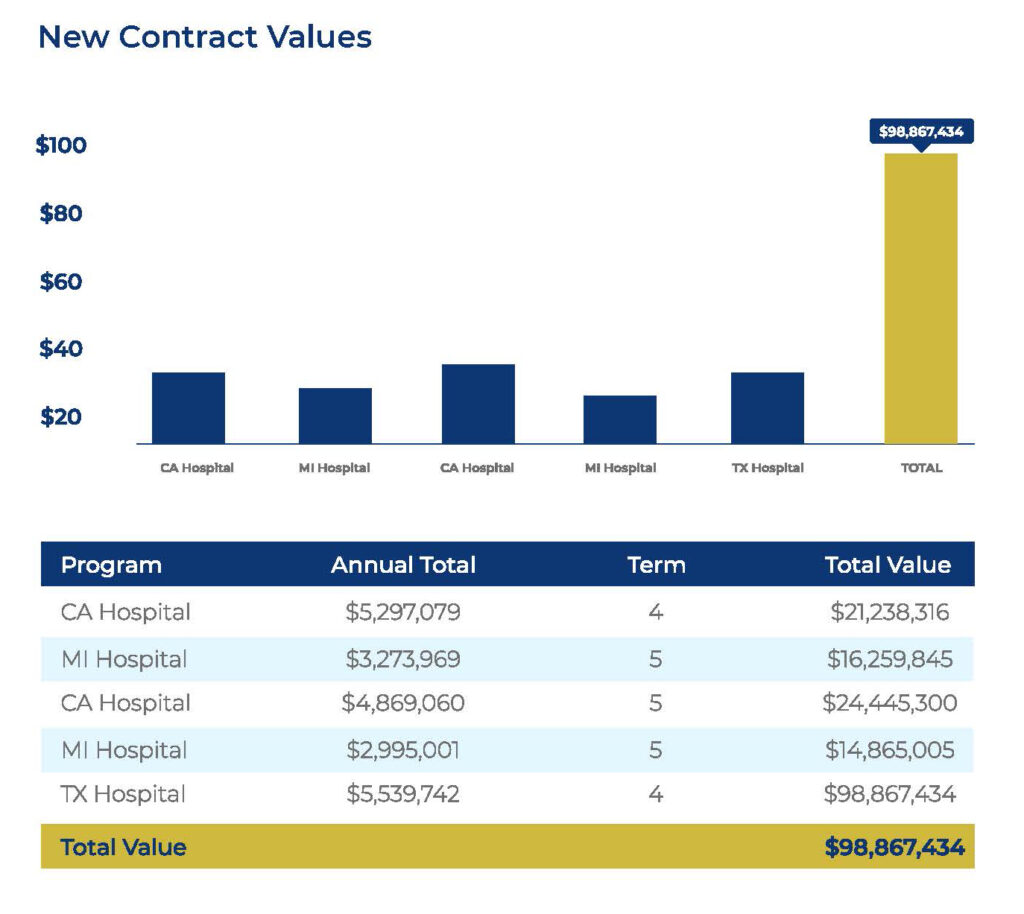 Let's start growing your business today! Email us at [email protected] or call (210) 240-9400.